A few weeks ago I wrote an indepth article for Social Media Examiner called 8 Keys to Blogging Success. I'm breaking it up into bite sized pieces and going into some more detail so that we can talk about this.
#8: Are You Focused?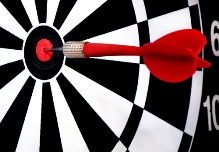 Are you able to stay focused on that one subject that keeps you up at night because you're so eager to tell the world about it? Are you able to hold your course when people start asking about everything from technical reviews of the latest gadget to your opinion on experimental Asian cuisine?
It's tempting to bunny trail off into whatever people are asking about but it's a dead end because you probably have to generate excitement for those topics and it derails your blog's purpose.
Stay true to yourself and to the desperate need to share what you know that started your blog. You're going to need it to power you up to skip TV programs, get up early, stay up late, do what it takes to create and maintain a good blog.
After reading all of these questions, you've probably got a lot better sense of whether you're going to be happy blogging or not.
What do you think about these? Leave your comments in the box below.
Tomorrow we'll cover the next key to Blogging success.
Related Posts
8 Keys to Blogging Success: Part 1
8 Keys to Blogging Success: Part 2
8 Keys to Blogging Success: Part 3
8 Keys to Blogging Success: Part 4
8 Keys to Blogging Success: Part 5
8 Keys to Blogging Success: Part 6
8 Keys to Blogging Success: Part 7